Bicycle Injuries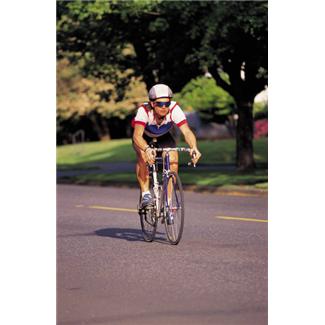 Just because you aren't in a car doesn't mean you are immune from bad drivers. Bicyclists face risks wherever they ride, whether on a highway on a 100-mile ride, or a block from home riding home from work. And, just as it is important to have good legal representation when you're in a car, you need a lawyer that can fight for your rights after being injured riding a bike.
"Real Cases — Real Results" Case Study No. 68:
A young lady, out for her exercise, is riding in a peaceful residential Canon City neighborhood when she is hit by a careless driver backing quickly out of their driveway. The cyclist is thrown 17 feet from her bicycle, and hits her head on the pavement; thankfully, she is wearing a helmet, which helped reduce her injuries. In the end, the cyclist suffers injuries to her knee, neck, and toe. Thanks to the expertise of Dan Slater, the cyclist's medical bills were paid, and settlements were reached with the insurance companies involved for a total of $44,000.00.
Bicyclists are incredibly exposed, and no bicycle is a match for a crash with an automobile. Bicycle injuries are different from what passengers in automobiles experience. The injuries suffered can be life-altering. Bicyclists also come in a greater variety of victims — children ride freely around the neighborhood, and careless drivers can easily cause tragic damages that are hard to address.
If you've been in that kind of accident, you need a lawyer that can work hard to ensure that the negligent driver and their insurance company recognize the impacts of your injuries.
In other words, you need Dan Slater.
[contact-form 1 "PI Contact Form"]