Motorcycle Collisions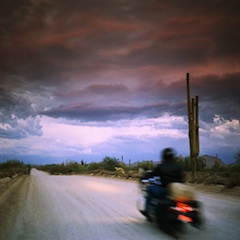 Riding on the open road, the wind running across your body, the sun shining on your skin — there's nothing quite like the freedom you feel when riding a motorcycle!
The problem, though, is that freedom often comes with a price. The same exposure to the elements and to the open road that excite a rider can also cause horrific injuries. Further, there are too many people driving on the roads who fail to respect the space and safety that a motorcycle rider needs. And, while the same collision might result in just a little bumper damages when two cars are involved, when a bike is involved, the result can be much more serious.
"Real Cases — Real Results" Case Study No. 95:
While driving near Saguache, an out-of-state biker is riding with a group of motorcyclists. From behind, another biker goes into a skid and slams into the first biker. Later, the second biker blames the first biker for the skid. The first biker sees Dan Slater; originally, the second biker's insurance wants to blame Dan's client, and give hime nothing for his injuries. Dan fights for his client, and in the end, the insurance company provides Dan's client with the full $100,000 policy limits of its policy.
Dan Slater has been representing motorcycle riders for over a decade. He's seen some of the most horrific of injuries, and he's worked hard to bring justice for those who were injured while riding. Dan understands the special situations and issues that a motorcycle rider faces when they've been injured, from helmet law issues to the negligence and prejudices of non-riders. If you've been injured, Dan will work hard to ensure that your rights are protected, that the insurance companies involved treat you fairly, and that the person responsible for your injuries is held accountable.
If you've been hurt in a motorcycle accident, give Dan a call. Our office will get to work immediately to ensure that you are treated right and that you aren't left hanging because of somebody else's mistake.
[contact-form 1 "PI Contact Form"]