Car Collisions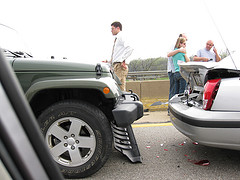 Car wreck.
Auto accident.
Fender-Bender.
Hit by a Careless Driver.
There are a lot of ways people talk about it, but the reality is that when you've been hurt by somebody else's screw-up, you don't really care what it's called. You need to know your rights, and you need a lawyer who knows what your rights are and how best to help you. That's where Dan Slater comes in.
"Real Cases — Real Results" Case Study No. 53:
Driving on Highway 115 between Canon City and Florence, a woman stops to allow a vehicle in front of her make a left turn. She is hit from two cars behind by a careless driver who was not paying attention to the road, or the cars stopped in front of him. As a result of the collision, the woman suffers neck pain, low back pain, shoulder pain, and headaches. Dan Slater works with the woman and fights to ensure the insurance company pays what is fair; in the end, the woman recovers $185,000 from the other driver's insurance company.
Dan has been helping people hurt in car accidents for years. It's what he knows best. It's why he's received statewide awards for his work as a "trial lawyer."
Car collisions create a lot of complicated issues. Being a good lawyer for clients hurt in car crashes is about more than simply knowing the procedures for making claims set out in the statutes and regulations in Colorado. Being a good lawyer for car accident victims requires a knowledge of how insurance companies work. It requires knowing about the injuries that are caused by the physics of a car crash. It requires an understanding of the interplay among car insurance companies, doctors, health insurance companies, hospitals, and the courts. Dan Slater works hard to make sure that he stays at the top of the game and knows the intricate details of each of these variables in every auto accident case he takes.
Dan understands that a car accident case is about a lot more than the slick thirty-second television ads that blanket Colorado's airwaves late at night. Dan knows that people want somebody who can take the stress of the legal issues involved in being hurt because of somebody else off of their shoulders so that they can focus on getting better. Dan believes that people have an intrinsic value — as human beings — that can't be measured simply by dollars and cents.
If you've been in a car accident, you should call Dan's office today to set up an appointment. Either Dan or his assistant will talk to you about what you've experienced and help decide whether Dan can help you. Then, Dan will meet with you in person, no matter where in Colorado you may be, to talk with you about your rights and what our office can do to help make things easier on you. And, for all of that, you won't be charged a dime in legal fees.
The insurance companies have the best attorneys working for them. Why shouldn't you?
[contact-form 1 "PI Contact Form"]